Feb 13, 2022
No More Excuses, Right?
When you've made a commitment that comes with challenges and resistance, listen to "I Can and I Will"
The sister episode to this one is Episode 17 A 30 Second "You Can Do It"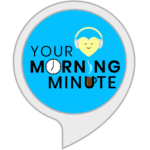 Have you checked out "Your Morning Minute"? It guides you through deep breaths and empowering questions, all in one minute!
Find out more at YourMorningMinute.com
WANT MORE EPISODES LIKE THIS ONE?
Episode 99 I Am Able
Episode 52 I Did It