Aug 30, 2020
Feeling Anxious?
Go through this calming exercise whenever you need it. It's called "Calming Anxiety and Counting Back from 100 by 7s"
The sister episode to this one is Episode 255 "The 5-4-3-2-1 Grounding Technique Plus More"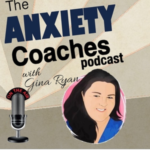 This episode is sponsored by The Anxiety Coaches Podcast with Gina Ryan.
Check out episode 627: 7 Easy Practices to Quiet Your Anxiety
Want More Episodes Like this One?
Episode 173 What Others Think of Me AffirmationPod.com/WhatOthersThink
Episode 170 I am Intelligent and Capable AffirmationPod.com/IntelligentAndCapable
Episode 157 When You Can't Think Straight AffirmationPod.com/CantThinkStraight
Episode 150 I Can Handle It AffirmationPod.com/ICanHandleIt
Episode 148 I Am Enough AffirmationPod.com/IAmEnough
Episode 147 Overthinking AffirmationPod.com/Overthinking
Episode 140 Performing Under Pressure AffirmationPod.com/PerformingUnderPressure
Episode 130 Believing in Yourself and Not Giving Up AffirmationPod.com/Believe
Episode 99 I Am Able AffirmationPod.com/Able
Episode 40 I Can Do This AffirmationPod.com/ICanDoThis