Jan 23, 2022
You've Made It Through
Relax and soak in the results of working on yourself and improving your life. Listen now to affirmations because "I've Turned My Life Around"
The sister episode to this one is Episode 68 You have the Power to Change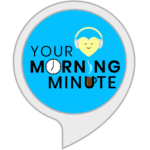 And don't forget to check out the new Alexa flash briefing "Your Morning Minute." It guides you through deep breaths and empowering questions, all in one minute!
Find out more at YourMorningMinute.com
WANT MORE EPISODES LIKE THIS ONE?
Episode 368 ​​Shifting Priorities
Episode 362 Building Momentum
Episode 349 Detaching from Distraction
Episode 335 I'm on the Right Track
Episode 309 Affirmations for Focus
Episode 248 Guided Affirmations to Structure Your Day
Episode 239 Affirmations for Productivity and Focus
Episode 27 Discipline (Calling All Procrastinators)
Episode 24 Here You Are...Focused
Episode 13 Time Management