Feb 20, 2022
What are Things to Appreciate about YOU?
Honor who you are and how you help yourself and the world around you. Listen to "Appreciating Yourself"
The sister episode to this one is Episode 29 I Honor Myself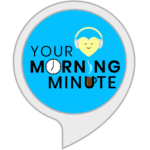 Have you checked out "Your Morning Minute"? It guides you through deep breaths and empowering questions, all in one minute!
Find out more at YourMorningMinute.com
WANT MORE EPISODES LIKE THIS ONE?
Episode 288 Going From Who Am I to Who I am
Episode 265 Affirmations for The Next Chapter of Your Life
Episode 214 I am Disciplined and Giving Myself a Better Life
Episode 176 Making Decisions and Adulting
Episode 146 Not Who I Used to Be